I am ashamed to admit how many blogs that I subscribe to. It got so out of control that I had to start managing my blogs with Google Reader. I love it, because I can review my blogs all in one place at one time. But if I let it sit for a week or so I can have nearly 100 posts backlogged to read. The other problem, although one I enjoy, is that most of the blogs are about food. So after 20 minutes of reading through the blogs I am STARVING...even if I just ate. There is always some post that forces me to jump up from the computer and run into the kitchen before I have even made it halfway through my list of posts. Today I hardly made it 20 posts in out of the 86 when I came across this; Peanut Butter, Jam and Banana Soft Serve Popsicles from Oh She Glows. They sounded divine and I had to have one NOW!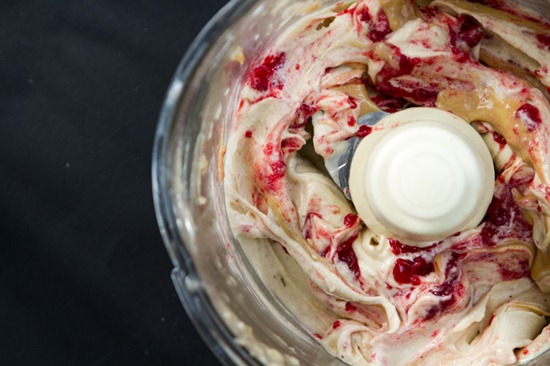 Peanut Butter, Jam and Banana Soft Serve Popsicles from Oh She Glows
I opened the freezer and found a mostly eaten container of vanilla ice cream, and two brown bananas. When I reached for the peanut butter my hand fell on the Nutella. <Light Bulb> I smashed the brown bananas into the ice cream and swirled in Peanut Butter and Nutella. I poured it back into the Ice Cream Container and did my best to wait. Thankfully since I started with frozen ingredients it only took about an hour to set. It was creamy and nutty and chocolatey. The banana really set it apart and the Nutella made it sing. This is an idea that I will play over and over again. I want to try it next time with plain yogurt, something I have been playing with this summer.
What do you like to mix with Banana?
Head on over to Girli Chef to check out so many more wonderful ideas for cool treats this summer. Her and her friends have some fun stuff goin' on over there!